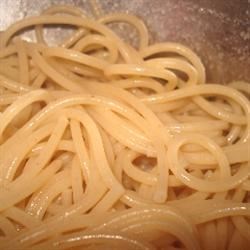 When we think pasta, we tend to think of sauces. That's too bad, because pasta on its own is a simple delight and a great side for most meals. And it's pretty inexpensive, too. Add some diced, grilled chicken or shrimp, and you have an instant meal.

Pasta ABSORBS a lot of liquid. That's just what you want. And it requires a lot of salt. I find that 2-3 garlic cloves work best. Use less or more if that's your taste--but not much more.

If you have access to Italian-made pastas, by all means use them for this recipe. Italian pastas, available in many shapes and sizes, have a better taste and "bite" than American-made counter parts.
1 box pasta, such as angel hair, spaghetti, vermicelli, linguine
2-3 garlic cloves, peeled
1/2- 3/4 cup light olive oil
2 tablespoons unsalted butter
2 cups finely shredded Parmesan cheese
1 tablespoon sea salt or other "non-table" salt
Freshly-ground black pepper
Fresh-grated lemon zest (optional)
Fresh basil leaves (optional)
Bring a large pot of salted water to a boil.

Meanwhile . . . get out the largest non-plastic, non-metal bowl you have, preferably with a flat bottom. Into it, "zest" your peeled garlic using a fine micro plane or a garlic press. (I highly recommend the micro plane). Lacking both, finely mince your garlic. Sprinkle with table salt and using the back of a large, flat knife, press back and forth until a paste forms. Lacking that initiative, mash the garlic in a mortar and pestle. Lacking that . . . well, you shouldn't be cooking.
A micro plane. No kitchen should be without one!
Place the garlic in the bottom of your bowl. Add the olive oil. Add the tablespoon of salt and about 20 grinds of fresh, black pepper. Stir. Dot with the butter and set aside. If using, add several grates of lemon zest.

Meanwhile . . . Using your trusty micro plane, zest about 2 cups from a wedge of Parmesan. The micro plane will make it nice and fluffy so it melts instantly into the hot pasta.

Add 1 box of pasta to the boiling water. Bring back to a boil and cook according to package directions. If using angel hair pasta, do not walk away from the pot! Angel hair pasta cooks within minutes and you don't want a clumpy mess.

When pasta is done, turn off the heat. Do not drain your pasta! Using a pasta ladle, remove the pasta from the water and add to the bowl containing your garlic, olive oil, salt, pepper and butter. Don't worry if water gets in--you want some. Pasta will absorb it. Mix the oil mixture into the pasta. Sprinkle half the cheese of top and combine. Then add the rest and combine some more. (At this point, I often just use my hands to mix everything.) Taste and add more salt and pepper if necessary. If you wish, add some freshly-minced parsley to it and sprinkle with a bit more cheese. If desired, sprinkle with a chiffonade of basil leaves.
TIP: To keep the pasta warm while you get the rest of the meal together, place a cloth dish towel over the pan of pasta water (be sure heat is off and away from other burners that may be on). Now set your bowl of pasta on top of it. The trick is not to let the bowl come into contact with the hot metal thus avoiding a crack. Cover the pasta with a sheet of cling wrap. Stir just before serving.

Enjoy.